Anna lost 115 lbs!
Tish lost 60 lbs!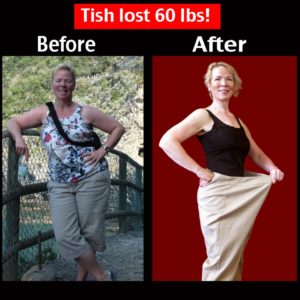 Tommy's Transformation
HERE ARE JUST A FEW TESTIMONIALS
(as there are simply too many to list!)
"I love this gym! I never write reviews, but I feel inclined to with the dramatic results that I achieved here. So I'll keep this short and sweet. I lost 60 pounds and went from a size 12 to a 6 in seven months! Before Flex, I loathed the thought of dieting and working out. But, I stuck to their diet and workout program and I now actually enjoy going to the gym and being healthy for the first time in 56 years."
- Gloria B.
"Seven months ago, I found myself at 252 pounds with a 42-inch waistline and I was miserable. Although reluctant, I contacted Flex and began their program. They started me off on a light exercise program and an easy to follow diet. Soon I was increasing both my aerobic exercise time and strength training. I am now down to 181 pounds and can wear 32-inch pants and 16-inch shirts with a tie. I no longer have that "pregnant" look and have a higher energy level. I feel great and much stronger. I highly recommend Flex and feel that they have saved me from a heart attack. Thanks Flex!"
- Michael A.
"When I started working with Flex I was 142 lbs. and my body fat was at 26%. After 6 months of training with Flex and following their eating plan I am down to 126 lbs. and 18% body fat. I went from wearing a size 10 to a size 4. Their program are worth every minute and every dollar!"
- Wren N.
"Training with Flex has turned out to be the best thing I've ever done for myself. I've always considered myself to be a healthy person, but Flex's program has taken me to a new level of fitness. With Flex's help I have seen results that I never thought possible and have achieved goals that I only once dreamed of. They keep me motivated and inspired. I wouldn't be this consistent with my workouts and diet on my own. I'm 44 years old and I'm in the best shape of my life. I now have the lean, toned, and defined shape that I've always wanted."
- Diane J.
"I've been slightly overweight my whole life. I've tried every diet there is, I've joined gym after gym, I've tried different workout programs, nothing seem to work for me. I drive by this gym on my way to work everyday. I had a trip to Hawaii that I really wanted to look good for. I wanted to wear a bikini in Maui and feel confident. So I made the call, had the consultation, started working out with my trainer, I lost 35 lbs in just a few months! I love my arms now, my stomach is flat and I can actually see a few abs for the first time in my life. I love this place, give them a call, you won't be sorry."
- Ann S.
"I play team sports almost compulsively and through the seasons, Flex has helped me reach a higher bar every season. Through an ankle fracture and knee problems, their training has helped me recover and get back to the game faster and stronger than before. They are fun to work with and keep me motivated 3 times a week."
- Kamil J.
"Flex training gym is awesome! I've been training at Flex for almost a year and have lost 110 pounds and over 74 inches! It works! I actually enjoy going to the gym now! "
- Anna R.
"Thanks to Flex, there's now 50 lbs. LESS of me than there was a year ago. I have actual muscles and feel great. Amazing! But at age 50, overweight, and out of shape, I felt nasty and had to do something. I saw a post on a friend's Facebook page of a woman who'd totally transformed herself at Flex and looked fabulous. I wanted to be her! I had a consultation with Ron, the gym owner, the next day and started later that week. I've been going twice a week since then. I observe the other trainers at the gym. They all have different styles, but they listen to their clients, create customized programs for them, and get results. They know how to use the equipment and insist on correct form. They're always encouraging. Try Flex! If I can do this, you can, too."
- Jennifer C.